Candlewick Lake offers American parade & spectacular fireworks. Candlewick Lake residents in Poplar Grove near Rockford, Illinois came out in force both to cheer on their annual Fourth of July parade and to donate more than $10,000 to fund a community-sponsored fireworks display that rivaled those of some big cities
By Ray Hanania
You just don't know what it is like to live until you have a chance to settle along a lake or sit on a boat on a lake as fireworks explode in the sky above reflecting in red, white and blue on the waters below with a beautiful sunset kaleidoscoping in the horizon.
Candlewick Lake is a beautiful man-made two mile long body of water stocked with an abundance of fish and lined with a hundred homes along its shores, surrounded by hundreds of homes in a gated, secure community a few miles south of the Wisconsin border.
The people who live in the community there celebrate their blessings, honoring Americans who served their country and cheering on America's birthday with gusto and true down-home patriotism.
I have never seen more enthusiasm for community spirit than at Candlewick.
The community commemorated the July 4th holiday on Saturday, July 2nd, starting with a parade of first responders, military servicemen, a few candidates and politicians seeking legislative and Boone county offices, and some Civil War enthusiasts dressing up for the occasion.
There is nothing like sitting back and enjoying the parade, especially watching the children scramble to grab candies tossed from the many parade vehicles, fire trucks, police cars from Candlewick, the county and the state, and the parade flats and trailers.
Of course, sometimes the candy is so good, you have to duck and dodge. The good candy can hurt when it hits you in the head. I say that laughingly, of course.
The parade began at 11:30 am at Savannah Oaks, the gated community's private 9-hole golf course and wound around the lake past hundreds of residents who lined the street and filled their driveways with folding chairs, barbecues and tents.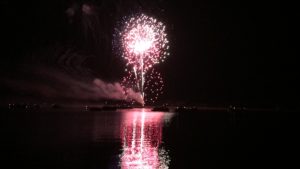 It was so relaxing and fun.
But the evening is capped by a Candlewick Lake tradition, a massive fireworks display at the south end of the lake that started exactly at 9:11 pm. By then, residents of Candlewick, whether they live in spacious homes along the lake, or beautiful homes in the community with spacious manicured and lawns and gardens, had launched their boats from their home piers or from pier rentals in the lake filling the lake with an impressionable array of pontoon boats, speed boats, wave runners and canoes lighted in the mandatory Department of Natural Resources red lights (port side — I'm just showing off), green (starboard side), and white light above and stern.
Pontoon boats are the perfect choice for a very large family and community lake. Families crowd aboard and slowly make their way to positions int he water where they drop anchors and sit and enjoy both the kaleidoscope-like sunsets behind them and the perfectly performed music from a live band at the community center where barbecues and events entertained those who preferred to enjoy the show from land near the community public pool and beach.
The band, Power Trip, played amazing renditions of Led Zeppelin and some of the rock and roll's greatest music hits. The music and sounds echoed across the spectacularly blue waters on a beautiful day with calm waters.
And the fireworks began exactly at 9:11 pm, probably intentionally to commemorate America's remembrance of the nearly 3,000 Americans who were murdered by al-Qaeda terrorists only 15 years ago this Fall. This year will be a memorable marker in remembering the terrorism, and for Americans, remembering and commemorating is the strongest first step in destroying the terrorist scum that are seeking to destroy this world.
The fireworks show went on for almost 20 minutes and the organizers, funded by donations from residents, were not cheap. They looked better than displays you would see in some of the state's biggest cities. Somehow, when a community donates to fund a public event, the quality of the show is far better than those funded through taxation and governments who sometimes have lost sight of what's really important.
Happy 4th of July everyone.
Here are some more of the photos from this spectacular evening of fun and family enjoyment: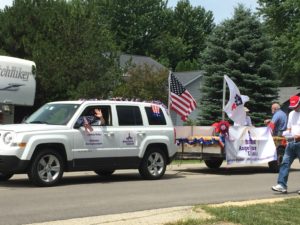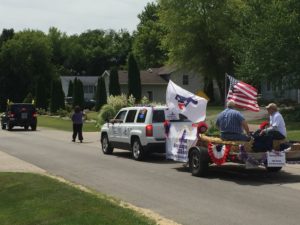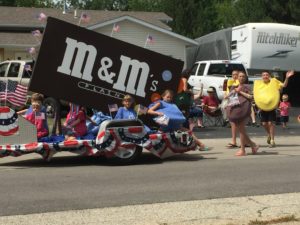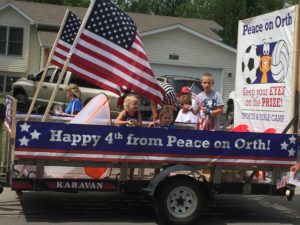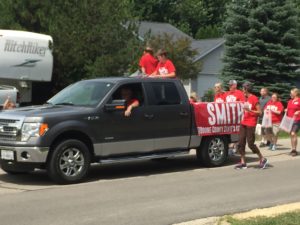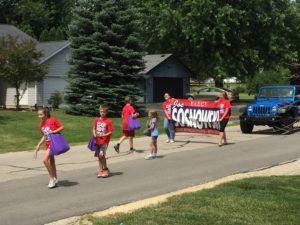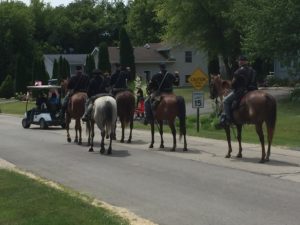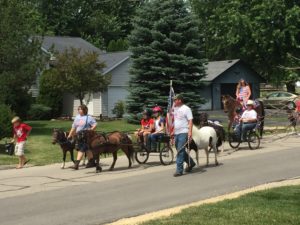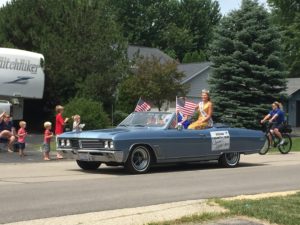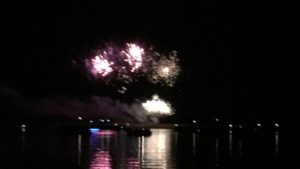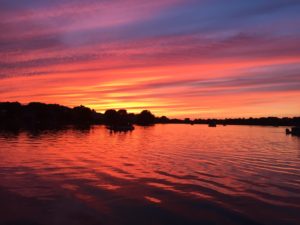 THIS POST HAS BEEN READ 8057 TIMES SO FAR. THANK YOU!
Ray Hanania is an award winning political and humor columnist who analyzes American and Middle East politics, and life in general. He is an author of several books.
"I write about three topics, the Middle East, politics and life in general. I often take my life experiences and offer them in an entertaining way to readers, and I take on the toughest topics like the Israel-Palestine conflict and don't pull any punches about what I feel is fair. But, my priority is always about writing the good story."
Hanania covered Chicago Politics and Chicago City Hall from 1976 through 1992. Hanania began writing in 1975 when he published The Middle Eastern Voice newspaper in Chicago (1975-1977). He later published "The National Arab American Times" newspaper which was distributed through 12,500 Middle East food stores in 48 American States (2004-2007).
Hanania writes weekly columns on Middle East and American Arab issues for the Arab News in Saudi Arabia at www.ArabNews.com, and at www.TheArabDailyNews.com, www.TheDailyHookah.com and at
SuburbanChicagoland.com.
He has also published weekly columns in the Jerusalem Post newspaper, YNetNews.com, Newsday Newspaper in New York, the Orlando Sentinel Newspapers, and the Arlington Heights Daily Herald.
Palestinian, American Arab and Christian, Hanania's parents originate from Jerusalem and Bethlehem.
Hanania is the recipient of four (4) Chicago Headline Club "Peter Lisagor Awards" for Column writing. In November 2006, he was named "Best Ethnic American Columnist" by the New American Media. In 2009, Hanania received the prestigious Sigma Delta Chi Award for Writing from the Society of Professional Journalists. He is the recipient of the MT Mehdi Courage in Journalism Award. He was honored for his writing skills with two (2) Chicago Stick-o-Type awards from the Chicago Newspaper Guild. In 1990, Hanania was nominated by the Chicago Sun-Times editors for a Pulitzer Prize for his four-part series on the Palestinian Intifada.
His writings have also been honored by two national Awards from ADC for his writing, and from the National Arab American Journalists Association.
The managing editor of Suburban Chicagoland Online News website
www.SuburbanChicagoland.com
, Hanania's columns also appear in the Southwest News Newspaper Group of 8 newspapers.
Click here to send Ray Hanania and email.
His Facebook Page is
Facebook.com/rghanania
Visit this link to read Ray's column archive at the ArabNews,com
ArabNews.com/taxonomy/term/10906
Latest posts by Ray Hanania (see all)