Subscribe to Ray Hanania's Columns today
==== FREE Get Email Notices when new columns are posted ====
I stopped in for a breakfast the other day with my son to talk about his sterling performances at high school, only to realize how much lying he and I have to face as citizens in our society in here in America. Our businesses, our schools, some of our governments and Chicago desperately lie to benefit themselves or to cover up inefficiencies and their own failings, just like Chicago's lying Mayor Rahm Emanuel.
By Ray Hanania
I hopped on over to one of my favorite breakfast restaurants with my son over the weekend figuring we can talk about the deficiencies at his high school, Carl Sandburg in suburban Orland Park.
As soon as we got the menu, he pointed to a page promoting a discount for seniors, 55 +.
Of course, I'm "55 +." He wondered why I don't take advantage of the "Senior Discount."
I told him it wasn't a "discount" at all. It was just slick, misleading advertisement intended to make the place look "senior friendly." It was a lot like the building where he went to school, I explained. On the outside, it looks great. But, it's not so great on the inside. I pointed out how about 15 years ago his sister had terrible experiences with racism and hate at Sandburg High school, so that he shouldn't expect too much, even though he was a hard working student who studied a lot like his sister, a very successful professional, today, thanks to her own hard work.
=======================================

SUBSCRIBE TO RAY HANANIA'S COLUMN

=======================================
(You can read my column about the failings of Sandburg High school and other regional suburban and Chicago high schools by clicking here and also clicking here.)
A genius in math myself, despite my Chicago public school upbringing, I explained efficiently that the breakfast restaurant was not offering a discount at all, but rather less food at a higher price.
"Why would they do that to seniors?" he asked.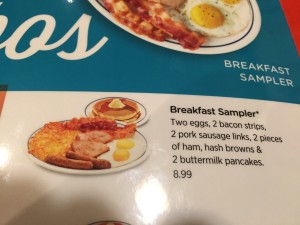 Like our schools that care more about administration than they do students, I told him businesses care more about money than they do customers. If businesses cared about customers, I explained, they would make more money. But that means that the business has to have confidence in their products and respect the public.
Take this breakfast menu promotion for "55 +" I explained, pointing to the restaurant's slick menus and table brochures.
The menu offered a very tasty regular "Breakfast Sampler." Two eggs, 2 bacon strips, 2 pork sausage links, 2 pieces of ham, hash browns and two buttermilk pancakes. All for $8.99. (Don't get me wrong, the food was good. I liked it.)
On the 55 and over promotion page, the same restaurant offers the "55 + Breakfast Sampler." One egg, 1 strip of bacon, 1 pork sausage link, 1 piece of ham, has browns and 1 buttermilk pancake." The cost? $5.19.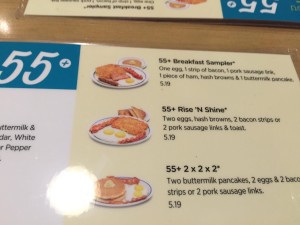 Basically, I explained, it's the same meal cut in half. But, is the price cut in half? No.
In fact, the "55 +" Breakfast meal costs almost $1 more than the regular Breakfast Sampler. Half of $8.99 is $4.50, not $5.19.
You probably figured out which breakfast chain I'm talking about, but it's the same at most restaurants offering "senior discounts," with some exceptions.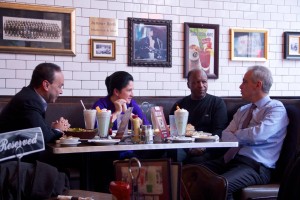 If a senior customer – or any customer — wanted to eat less, they could order half as much food. I would understand the higher premium that would be added to do so, if they were just upfront about it. I could deal with that kind of a promotion and not complain about paying more on average, knowing what is happening.
But to be told I am getting a "discount" because I am a senior when in fact I'm not? Why lie? Why exploit senior citizens and baby boomers, pretending to give us a break on breakfast when they're really not giving us a break at all? They're getting the break on our hardworking backs.
As a reader, I'd really like to hear your senior citizen scam story. Promised discounts that are not discounts at all. Where do you go to get ripped off? Email me with your story (and location) and I'll publish it. Email them to me at rghanania@gmail.com.
And that brings me to Chicago Mayor Rahm Emanuel.
What's worse than killing a teenager allegedly on drugs, acting strange with a pocket knife in hand? Lying about it and then covering it up. That's what Chicago Police Supt. Garry McCarthy, Chicago Mayor Rahm Emanuel and Cook County State's Attorney Anita Alvarez clearly did in the killing of 17 year old Laquan McDonald.
McDonald was killed 14 months ago on Oct. 14, 2015. They clearly destroyed video evidence. And they clearly lied on the police reports about what McDonald did, because one video survived the Emanuel cover-up.
Why cover it up? Mayor Emanuel, Chicago's worst mayor ever, was seeking re-election four months later. He knew the Laquan murder and cover-up was wrong. And Mayor Emanuel doesn't care about young people the way he only cares about his own privileged children. For Emanuel, it is all about power, greed, money and selfish benefits for his family and friends.
To ease the criticism, the cowardly Mayor Emanuel fired Chief McCarthy. But the public and justice still demand that Mayor Emanuel and Anita Alvarez should resign, too.
It would have been terrible to see a 17 year old shot 3 times while acting erratically. That's what police claimed Officer Jason Van Dyke did. But it turns out Van Dyke fired 13 more times as the boy was lying on the ground, motionless.
That's pathetic. That's outrageous. That's outright murder. That's disgusting. And that lie is no different than the lies that people make just to get ahead in the world, whether it is a crappy restaurant or an even crappier Mayor like Rahm Emanuel.
(Ray Hanania is an award winning former Chicago City Hall reporter and columnist. Reach him at rghanania@gmail.com.)
THIS POST HAS BEEN READ 3909 TIMES SO FAR. THANK YOU!
Ray Hanania is an award winning political and humor columnist who analyzes American and Middle East politics, and life in general. He is an author of several books.
"I write about three topics, the Middle East, politics and life in general. I often take my life experiences and offer them in an entertaining way to readers, and I take on the toughest topics like the Israel-Palestine conflict and don't pull any punches about what I feel is fair. But, my priority is always about writing the good story."
Hanania covered Chicago Politics and Chicago City Hall from 1976 through 1992. Hanania began writing in 1975 when he published The Middle Eastern Voice newspaper in Chicago (1975-1977). He later published "The National Arab American Times" newspaper which was distributed through 12,500 Middle East food stores in 48 American States (2004-2007).
Hanania writes weekly columns on Middle East and American Arab issues for the Arab News in Saudi Arabia at www.ArabNews.com, and at www.TheArabDailyNews.com, www.TheDailyHookah.com and at
SuburbanChicagoland.com.
He has also published weekly columns in the Jerusalem Post newspaper, YNetNews.com, Newsday Newspaper in New York, the Orlando Sentinel Newspapers, and the Arlington Heights Daily Herald.
Palestinian, American Arab and Christian, Hanania's parents originate from Jerusalem and Bethlehem.
Hanania is the recipient of four (4) Chicago Headline Club "Peter Lisagor Awards" for Column writing. In November 2006, he was named "Best Ethnic American Columnist" by the New American Media. In 2009, Hanania received the prestigious Sigma Delta Chi Award for Writing from the Society of Professional Journalists. He is the recipient of the MT Mehdi Courage in Journalism Award. He was honored for his writing skills with two (2) Chicago Stick-o-Type awards from the Chicago Newspaper Guild. In 1990, Hanania was nominated by the Chicago Sun-Times editors for a Pulitzer Prize for his four-part series on the Palestinian Intifada.
His writings have also been honored by two national Awards from ADC for his writing, and from the National Arab American Journalists Association.
The managing editor of Suburban Chicagoland Online News website
www.SuburbanChicagoland.com
, Hanania's columns also appear in the Southwest News Newspaper Group of 8 newspapers.
Click here to send Ray Hanania and email.
His Facebook Page is
Facebook.com/rghanania
Visit this link to read Ray's column archive at the ArabNews,com
ArabNews.com/taxonomy/term/10906
Latest posts by Ray Hanania (see all)