Does anyone stand by their products any more?
By Ray Hanania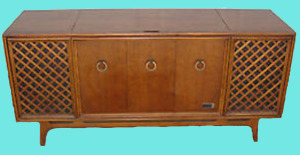 I vaguely remember when I was younger how my dad was purchasing a new console stereo for our home. It was a large piece of furniture about 5 feet long made of mahogany wood with two large speakers at each end and an AM/FM radio and a large state-of-the-art turntable that could play 45 rpm and 33 rpm records.
I distinctly remember the salesman telling my father, "This stereo system is one of the best in the market and I guarantee it. You are going to love it. And, it will last a long time."
Now, that was in 1964, and the world was still in awe of the 1957 Chevy, still afraid of the Russian Sputnik and the aftermath of radiation fall out that was drifting out of the nuclear tests at Alamogordo, New Mexico. Little clouds of nuclear radiation were drifting around poisoning people and creating monsters out of insects that became Hollywood legends.
Basically, what I am saying is that back then, Americans, including my skeptical father, would believe anything. And when the salesman gave my father his word that this new electronic "solid state" stereo player would give he and his family "years of entertainment enjoyment," my father believed him.
That large piece of furniture, a stereo system, lasted well into the 21st century and I could still play records on it. All I had to ever do was replace the diamond record "needle," and buy new records. It only died when they stopped selling vinyl records.
Back them, manufacturers not only stood behind their products, they were proud of what they had achieved. They were building skyscrapers, back then, that would last in the 21st Century and beyond. The mindset was that when America built something, nothing would tear it down, not even those Commie bastards the news would warn us about and my dad promised we would "kick the hell out of them. Monsters, Commies or anyone who tried to pull the wool over our eyes."
There was a sense of pride in what was created. And it wasn't just about a flash in the pan moment. It was about legacy. New gizmos had legacy. They were going to be here. You didn't just plunk down your hard earned dollars for a moment of excitement. You were investing your hard earned sweat equity dollars in something that would become a part of your life.
I don't know exactly when all that changed, but the world is just the opposite today. Nowadays, when you buy something,you have to worry about whether it is going to last long enough to enjoy it. The whole concept of a warranty has been turned into fast-cash and slickster promises that are meaningless.
It started with cars. At some point, the big "boat" my dad bought in the 1950s that would "sail the family into the great expectations" was replaced by wreck that who knew if it would last a few years? Some corporate a-hole figured out a way to sell the product to you more than once. First as a possession and then second as something that might last. You weren't just sold a product. Now, you were told you had to buy a policy to keep it operational and working.
Oh yes. You would buy something but there was no guarantee any more that it would work. You might end up owning a piece of garbage.
One of the most expensive investments people make today is in their Cell Phone.These are tiny items, miniaturized beyond belief, that have shrunk in size faster than the Incredibly Shrinking Man (the 1957 movie starring Grant Williams). The smaller the technology the larger the price tag. It was supposed to work the other way, but greed has become America's lifeblood.
You spend between $300 and $500 for a new iPhone 6 with 16 to 128 Gigabytes of memory, and you're not done.
"Can I interest you in a monthly insurance package?" the salesman is quick to say, putting an uncertain damper on your enthusiasm.
The salesman wants you to now pay $11 a month to cover the cell phone for theft or replacement or damage.
"These things are real fragile," he'd point out. "They can easily break, or get stolen."
What happened to the nifty technology that let's me track my cell phone using GPS anywhere in the world including into the back pocket of a thief? What's the point if I have to pay $11 a month, or $132 a year just to cover its survival? What, do I have to be the Discovery Channel's Bear Grylls to survive this dangerous world now?
That "insurance fee" is on top of the monthly fee to use the cell phone which consists of three pages of complicated terms and conditions that basically say that you have bought this piece of crap technology and you are responsible regardless of what happens but you had better pay your bill for the next two years or if you leave, they can smack you with an "early termination fine" of $20 a month for a 24 month period or whatever is left of your term of sale agreement.
At this point, most consumers are numb from the brutal beating their get from technology sales people. It is worse than when Sugar Ray Robinson delivered the greatest left hook in boxing history on May 1, 1957 and laid out in la la land his soon to be forgotten opponent, Gene Fullmer in their second fight in the ring. Fullmer went down faster than the Hindenburg at Lakehurst, New Jersey on May 6, 1937.
But that's not the last punch. You are down on the mattes for the final 10-count. The judge is whipping his hand with each number counting up to 10. Stars are spinning around your wallet. You just paid out the $500 for the iPhone, wondering if you should pay the other $132 a year to keep it working. And the salesman adds, "That doesn't include the warranty from Apple. That's another $100 a year."
And they only offer that warranty for one year because in two years, they plan on coming out with another "generation" of the iPhone — since when did "generations" deflate down from 50 years to two years?
That is what technology has done to our brains. It has not only made us dumber. It has made us suckers. Saps. A "nosebleed." (It had a different meaning back then. Someone who was so stupid, they were beaten with the "idiot stick" repeatedly.
That's today. "Nose bleeds." Suckers. Victims of a new scam that has become the norm. We just accept. We can send a Man to the Moon but we can't figure out a way to end this hustle for our hard earned dollars.
It's really shame.
I upgraded to the new iPhone 6, but I don't even know how long that "latest technology" gizmo is going to last, or even if it will work right. There's no guarantee. I have to take my chances. It's all on me. I give them the money and they hand me a piece of crap product that just might work, if I am lucky.
"Maybe that's what they should call today's warranty. "If I'm Lucky."
If the salesman had tried to pull that one over my dad, he would have beat him silly with the idiot stick right there in the showroom floor of the big electronic store in downtown Chicago.
(Ray Hanania is the managing editor of the Illinois News Network, an award winning, non-partisan journalism blog news site. Reach him at editor@IllinoisNewsNetwork.com.)
THIS POST HAS BEEN READ 1717 TIMES SO FAR. THANK YOU!
Ray Hanania is an award winning political and humor columnist who analyzes American and Middle East politics, and life in general. He is an author of several books.
"I write about three topics, the Middle East, politics and life in general. I often take my life experiences and offer them in an entertaining way to readers, and I take on the toughest topics like the Israel-Palestine conflict and don't pull any punches about what I feel is fair. But, my priority is always about writing the good story."
Hanania covered Chicago Politics and Chicago City Hall from 1976 through 1992. Hanania began writing in 1975 when he published The Middle Eastern Voice newspaper in Chicago (1975-1977). He later published "The National Arab American Times" newspaper which was distributed through 12,500 Middle East food stores in 48 American States (2004-2007).
Hanania writes weekly columns on Middle East and American Arab issues for the Arab News in Saudi Arabia at www.ArabNews.com, and at www.TheArabDailyNews.com, www.TheDailyHookah.com and at
SuburbanChicagoland.com.
He has also published weekly columns in the Jerusalem Post newspaper, YNetNews.com, Newsday Newspaper in New York, the Orlando Sentinel Newspapers, and the Arlington Heights Daily Herald.
Palestinian, American Arab and Christian, Hanania's parents originate from Jerusalem and Bethlehem.
Hanania is the recipient of four (4) Chicago Headline Club "Peter Lisagor Awards" for Column writing. In November 2006, he was named "Best Ethnic American Columnist" by the New American Media. In 2009, Hanania received the prestigious Sigma Delta Chi Award for Writing from the Society of Professional Journalists. He is the recipient of the MT Mehdi Courage in Journalism Award. He was honored for his writing skills with two (2) Chicago Stick-o-Type awards from the Chicago Newspaper Guild. In 1990, Hanania was nominated by the Chicago Sun-Times editors for a Pulitzer Prize for his four-part series on the Palestinian Intifada.
His writings have also been honored by two national Awards from ADC for his writing, and from the National Arab American Journalists Association.
The managing editor of Suburban Chicagoland Online News website
www.SuburbanChicagoland.com
, Hanania's columns also appear in the Southwest News Newspaper Group of 8 newspapers.
Click here to send Ray Hanania and email.
His Facebook Page is
Facebook.com/rghanania
Visit this link to read Ray's column archive at the ArabNews,com
ArabNews.com/taxonomy/term/10906
Latest posts by Ray Hanania (see all)