This post has already been read 2395 times!
Netflix, the very inexpensive cable and online movie channel, is increasingly making its own exclusive hit series. I'm hooked on "House of Cards," and now I'm enjoying "Wet Hot American Summer." Netflix is breaking the TV viewing mold with original content at a very cheap price
By Ray Hanania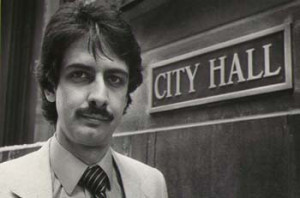 I am beginning to appreciate Netflix more and more.
At first, Netflix used to be a DVD-by-mail delivery service that later broke up into two companies, one delivering DVDs and the other providing access to rehashed, old movies that couldn't easily be found on the mainstream cable TV systems like Comcast.
It was a backup place that cost less than $8 a month so it was hard to just cancel. If you saw one movie a month, you didn't feel like you were wasting your money. But if you saw, you felt like you got to kick Comcast Cable TV, the cheapskates that charged you for everything, from the new movies to the old and ancient cult classics, like "It's a Wonderful Life."
But over the years, Netflix has proven to better a better system than Comcast Cable TV, which costs me more than $230 a month. And the only think keeping me at Comcast is that I need it to get HBO and Showtime, where I used to have to go to see some of the best new series on television like theSopranos, Boardwalk Empire, Game of Thrones, Episodes, Shameless, Silicon Valley and a few more.
But Netflix got wise and started to offer their own, exclusive series. One of the best on TV today isHouse of Cards, with Kevin Spacey. This show is probably the most compelling and shocking program on television. Predictability went out the studio window and unexpected surprises kept me cycling through the series during its two seasons.
And I can't wait for more.
Although I binge watched the series over a two-day period, I've binged watched it three times. It's that good.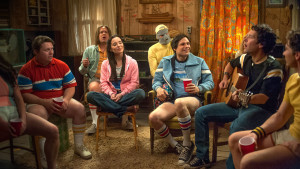 To mix it up, Netflix released another series on the other end of the entertainment spectrum. Wet Hot American Summer: First Day of Camp is a hilarious star-packed comedic event. Imagine, if you will, putting together two dozen of Hollywood's funniest comedian actors/actresses together in one sitcom series, and giving them just one instruction: "Go and have fun."
That's exactly what they did. There are so many great actors and actresses, all comedians, in Wet Hot American Summer, that it's the season's must view for the baby boomer generation, America's largest TV audience. Only a mature baby boomer would appreciate slapstick humor and comedy that looks, successfully, improvised.
But look at the cast. It's phenomenal.
Amy Poehler. Janeane Garofalo. Paul Rudd. Michael Ian Black. Molly Shannon.Lake Bell. Bradley Cooper. There are literally 104 top Hollywood actors and actresses who come together to make the eight series episodes the funniest thing on TV I've seen in a long time.
Sometimes the humor is goofy, but it's a hilarious concept, like National Lampoon's Vacation series. It's summer time and the graduates of summer camp come back as the camp counselors and student directors in a mix of sex, ridiculously funny entertainment, and all of the things you expect in summer camp from Camp Granada to Dirty Dancing which starred Patrick Swayze and Cynthia Rhodes in the all-time summer drama.
There's not a lot of great music in Wet Hot American Summer, but there is a lot of satire mocking the iconic fads of the baby boomer generation.
There are so many subtle jokes you won't be able to process them all at one time. You'll want to watch this several times, just for the fun.
I love it. And I've binge watched it twice.
This post has already been read 2395 times!
Ray Hanania is an award winning political columnist and author. He covered Chicago Politics and Chicago City Hall from 1976 through 1992. Hanania began writing in 1975 when he published The Middle Eastern Voice newspaper in Chicago (1975-1977). He later published "The National Arab American Times" newspaper which was distributed through 12,500 Middle East food stores in 48 American States (2004-2007).
Hanania writes weekly columns on Middle East and American Arab issues for the Arab News in Saudi Arabia at www.ArabNews.com, and at www.TheArabDailyNews.com, www.TheDailyHookah.com and at
SuburbanChicagoland.com.
He has also published weekly columns in the Jerusalem Post newspaper, YNetNews.com, Newsday Newspaper in New York, the Orlando Sentinel Newspapers, and the Arlington Heights Daily Herald.
Palestinian, American Arab and Christian, Hanania's parents originate from Jerusalem and Bethlehem.
Hanania is the recipient of four (4) Chicago Headline Club "Peter Lisagor Awards" for Column writing. In November 2006, he was named "Best Ethnic American Columnist" by the New American Media. In 2009, Hanania received the prestigious Sigma Delta Chi Award for Writing from the Society of Professional Journalists. He is the recipient of the MT Mehdi Courage in Journalism Award. He was honored for his writing skills with two (2) Chicago Stick-o-Type awards from the Chicago Newspaper Guild. In 1990, Hanania was nominated by the Chicago Sun-Times editors for a Pulitzer Prize for his four-part series on the Palestinian Intifada.
His writings have also been honored by two national Awards from ADC for his writing, and from the National Arab American Journalists Association.
The managing editor of Suburban Chicagoland Online News website
www.SuburbanChicagoland.com
, Hanania's columns also appear in the Southwest News Newspaper Group of 8 newspapers.
Click here to send Ray Hanania and email.
His Facebook Page is
Facebook.com/rghanania
Visit this link to read Ray's column archive at the ArabNews,com
ArabNews.com/taxonomy/term/10906
Latest posts by Ray Hanania (see all)