This post has already been read 2294 times!
I'm a big ribs fan, and Portillo's and The Patio are two of my favorite restaurants to go to eat them. Ribs are delicious. But the past few times at Portillo's have been a real hassle and I have to ask, has success spoiled Portillo's?
By Ray Hanania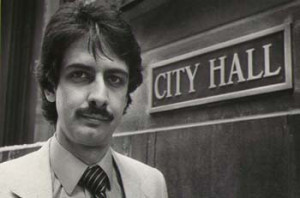 I was standing at the confused pick-up counter at Portillo's in Orland Park today thinking not about the ribs I ordered that were 30 minutes in waiting.
Instead, I was remembering the scene from the movie Jurassic Park where Dr. Ian Malcolm (Jeff Goldblum) is in the park car which has just toured several empty dinosaur enclosures, where no dinosaurs were seen.
Malcolm leans forward and taps the surveillance camera in the car with his finger, and asks sarcastically, "Ah, they do have dinosaurs on the dinosaur tour, right?"
I wanted to lean forward as the employee at the Portillo's food pickup counter read off numbers that had gone well beyond mine, and tap her on her forehead and ask, "Ah, they do have ribs at the rib restaurant, don't they?"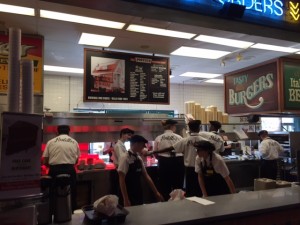 The young lady was creatively announcing orders. Mine was number 72. She was on number 124, playing a game with the last digit and rhymes.
"Order 97, its here from heaven," she said. Every number had a rhyming word in the order delivery process.
The problem was she had given me my side orders and drinks, but never delivered on the ribs. What was interesting to me was that most of the orders inside the store were for sandwiches like beef sandwiches, hotdogs, salads and more. There was a long line of cars surrounding the building, as always, probably ordering the ribs. Very few of the people at the counter seemed to be ordering ribs.
"Except me, the guy who was hun-gree!" For my ribs.
Finally, I went to the lady and said, I have been waiting her and wondered where the rest of my order is that you said would be here soon, 30 minutes ago?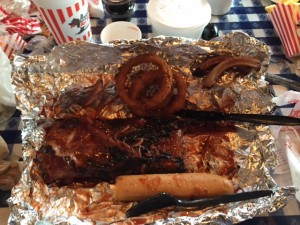 She then conducted a man-hunt through the huge and crowded serving area which was divided by a long aluminum counter filled with food orders. People in front of me were crowding around as each new number was being called, with the goofy rhymes.
It all made me think, and when I am hungry, that's not a good thing. Because I was looking at their huge menu of over-packed food items. This used to be a great rib place. Now, I don't know what it is. It serves everything. It tries to make everyone happy and you know the old saying. When you try to make everyone happy, you make no one happy.
My son, Aaron, came up and tapped me on the shoulder impatient for his rib order, too.
"What, are they butchering the cow back there?" Aaron asked. "I know the chickens will be happy," a reference to Chick-Fil-A's campaign.
Maybe they were. It was annoying. He had eaten his soup. The pop was half consumed. His milk shake was almost done. And here we were, waiting for the main order. Ribs.
Next time, I will probably go to The Patio and try my luck there. It's just sad, that when you go out to eat on a Sunday, you have to rely on luck to get your food.
Of course, they had a conference behind the counter, all 10 of the workers, and finally they gave me two orders of full slab ribs. I told them, and showed them my receipt, that I have two full slab rib dinners, which caused some consternation. They had to go and put together the ribs they had on the plate with sides (bread, cole slaw), and of course they forgot the Onion Rings I also ordered.
"Onion rings, too?" one employee asked.
I wanted to respond, "Yea. Is that too much to eat you think?"
I hate it when restaurant employees express shock at my orders. It's bad enough I have to worry about my weight and what this meal would do to it.
Finally, they handed me the onion ring container, which was so tiny and thin, it could barely hold six rings. Are you kidding me?
I just wanted to leave.
I finally made my way through the packed dining room at Portillo's to our table where I started to finally enjoy my meal, that cost me a grand total of $56.78 plus a lot of wasted time.
Oh, and they did ask, on the receipt, "How are we doing?"
Have I given you an answer? Portillo's. You are a rib joint, right?
This post has already been read 2294 times!
Ray Hanania is an award winning political columnist and author. He covered Chicago Politics and Chicago City Hall from 1976 through 1992. Hanania began writing in 1975 when he published The Middle Eastern Voice newspaper in Chicago (1975-1977). He later published "The National Arab American Times" newspaper which was distributed through 12,500 Middle East food stores in 48 American States (2004-2007).
Hanania writes weekly columns on Middle East and American Arab issues for the Arab News in Saudi Arabia at www.ArabNews.com, and at www.TheArabDailyNews.com, www.TheDailyHookah.com and at
SuburbanChicagoland.com.
He has also published weekly columns in the Jerusalem Post newspaper, YNetNews.com, Newsday Newspaper in New York, the Orlando Sentinel Newspapers, and the Arlington Heights Daily Herald.
Palestinian, American Arab and Christian, Hanania's parents originate from Jerusalem and Bethlehem.
Hanania is the recipient of four (4) Chicago Headline Club "Peter Lisagor Awards" for Column writing. In November 2006, he was named "Best Ethnic American Columnist" by the New American Media. In 2009, Hanania received the prestigious Sigma Delta Chi Award for Writing from the Society of Professional Journalists. He is the recipient of the MT Mehdi Courage in Journalism Award. He was honored for his writing skills with two (2) Chicago Stick-o-Type awards from the Chicago Newspaper Guild. In 1990, Hanania was nominated by the Chicago Sun-Times editors for a Pulitzer Prize for his four-part series on the Palestinian Intifada.
His writings have also been honored by two national Awards from ADC for his writing, and from the National Arab American Journalists Association.
The managing editor of Suburban Chicagoland Online News website
www.SuburbanChicagoland.com
, Hanania's columns also appear in the Southwest News Newspaper Group of 8 newspapers.
Click here to send Ray Hanania and email.
His Facebook Page is
Facebook.com/rghanania
Visit this link to read Ray's column archive at the ArabNews,com
ArabNews.com/taxonomy/term/10906
Latest posts by Ray Hanania (see all)