This post has already been read 2354 times!
Travel: Ft. Lauderdale, by Water Taxi
By Ray Hanania
On our second cruise on the Norwegian Epic, this time doing the Western Caribbean itinerary (we did the Eastern Caribbean in November 2013), we decided to spend a few days on land before boarding the boat in Miami, Florida.
So we booked a two night stay in Ft. Lauderdale, which for me was a nostalgia trip that brought back distant memories from my fraternity (Theta Chi) Spring Break when I was in college at Northern Illinois University back in the summer of 1972. It was Daytona Beach then further south to the warm waters of Ft. Lauderdale.
It definitely has changed a lot. Of course, and so have I, now with a family and a young son, too. But Ft. Lauderdale was a beautiful place to stay and enjoy the tourist attractions, even if the beach in November was warm but still not warm enough to swim.
I booked a room at the Hilton Ft. Lauderdale Beach Resot right along the beachfront on Atlantic Blvd. The room was described to me as a "loft" when we checked in and I almost had a stroke. But, fortunately, I held my temper until we got to the room, and it was pretty nice. It was a typical, standard room with two Queen size beds, small kitchenette, bath and a large balcony with chairs and a table (behind two glass sliding doors). It was $250 a night, but they offer free WiFi for unlimited devices.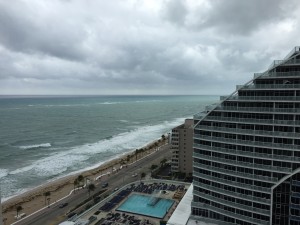 The balcony had a nice northwestern view of the ocean, and the stunning W Hotel next door, and the northeastern view of Ft. Lauderdale. The W Hotel was far enough away so there was a lot of open space to enjoy the oceanfront and city.
We checked in late, but were up early and had the breakfast buffet. It wasn't bad. It was a little cramped but they had an omelette chef and a nice spread of basic sides like bacon, ham, cheeses and Nova Lox, bagels and more. From the breakfast dining area, which wrapped itself around a bar area (Ilios Bar), you could look outside at the spacious outdoor pool which was on the hotel's 6th Floor Sunrise Terrace. It was definitely very pricey, about $40 each for the buffet.
The beach front is very narrow along the north beach, across the very busy Atlantic Blvd. But that wasn't too much of an inconvenience at all. And, if the weather had been warmer (again, it was in November so we didn't expect hot weather at all), we might have spent the day leisurely enjoying the beach. Instead, after breakfast, we decided to take a nice walk along the beachfront.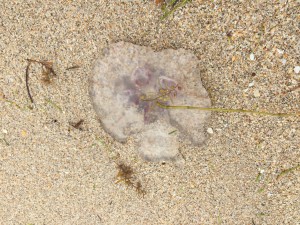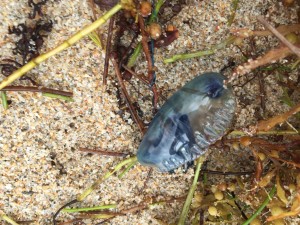 The beach was covered with broken chunks of jelly fish. It made for an interesting trek.
We did stumble across a lot of beached Portuguese Man-O-War jellyfish. The had a blue ridge along their vertical "back" and tentacles. Many were still alive. We were smart enough not to actually touch any of them, but they were fascinating to inspect as they washed up on the brown sand beachfront, and then washed back into the chilled brine with the morning surf.
You could still rent lounge chairs from vendors on the beach, but we decided to just keep walking along the beach. By chance, we decided to cross over and check out some of the shops along Atlantic Blvd. We walked about 7 blocks and ended up on Cortez Street. We noticed that facing east was the ocean, but facing west was a large water canal and some beautiful buildings. So on an exploratory hunch, we decided to just walk toward the canal and see what was there.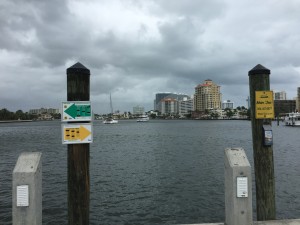 What we found was a public pier and what looked like a water taxi stand with full color maps. Turns out it was one of 19 stops on Ft. Lauderdale's phenomenal Water Taxi route. The tickets, which we bought on the Water Taxi, cost $22 a person. The total cost for the three of us was $66. It seems steep although the tickets are good all day and we learned you could board a taxi and get on and off at any stops using the same tickets. With 18 stops, (plus two additional Whistle Stops), there was a lot to see. And the map was pretty detailed. So, we hopped on the first Water Taxi boat that pulled up, southbound headed towards Hollywood. They increased prices recently to $26 per person.
The nice thing is that each Water Taxi has a driver and a tour guide who points out every major attraction along the Water Taxi route. There are a lot of stores, buildings and even huge yachts. But the most fascinating sites are when you enter the exclusive man-made islands on the canal where the super rich and the famous live in wild luxury.
I just thought Ft. Lauderdale was a college vacation town. Who knew it was an investment for the wealthiest of the world?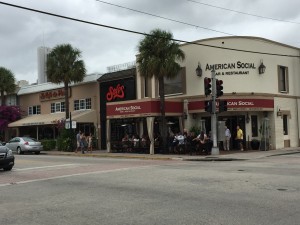 Each stop has clearly marked round signs in color and number designating where you are at and which "route" you can see. There are several different routes. The Yellow are for the New River Route The Blue and most frequent are for the Ft. Lauderdale Route, and the Pink take you to Hollywood, which has some great malls and shops. The map they give you also indicates restaurants.
We stopped pretty much at nearly every stop. We would walk around and then return to the Water Taxi stop again and re-boarded to go to the next stop. The boats vary in size from 19 passengers to 140 passengers, and most have a canopy to cover you in case it rains. And who knows, with Global Warming, we might even have to worry about snow down in Florida, the weather in this country is getting that bad!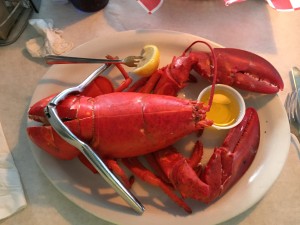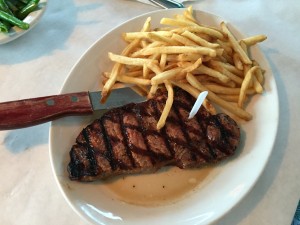 One of the restaurant stops that we decided to try out was the 15th Street Fisheries were we had a nice lunch. It was an open air restaurant that specialized in fish and steak and the meal was costly, $143. But who isn't going to try the 3 Pound Lobster?
The one disappointment at the 15th Street Fisheries was that they promised a discount when you traveled there by Water Taxi but instead of a discount, they offered a small cup of Italian Ice. I thought that was a little misleading and I was very disappointed. They didn't need to exaggerate since they are right there on the waterway and you can't miss it. And most tourists know they will be paying premiums for food. It was the worst part of the trip and if we go again, I'll definitely try a different restaurant, even if it isn't directly on the Water Taxi route.
We spent the entire day and early evening exploring Ft. Lauderdale using the Water Taxis. There was so much to see, next time, I plan on staying a week at Ft. Lauderdale, during the summer months, and exploring more of this wonderful city.
Las Olas, a beautiful stretch of Ft. Lauderdale from the oceanfront into the city itself is a must-see for shopping and enjoying the classy atmosphere of the shops and restaurants. But there is so much. The New River Route was phenomenal. There were so many great restaurants there, too, along with nice shops.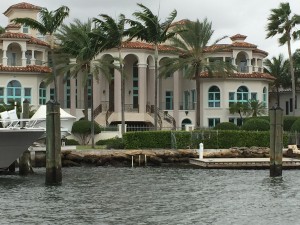 But the best part of the Water Taxi is the trip through the multi-million dollar homes that hug Las Olas Blvd that cuts through East Ft. Lauderdale. Some of these homes are amazing and include one owned by Sonny and Cher (before they lied in their song "I've Got You Babe" and suggested they would be together forever.) Wayne Huizenga has invested heavily in land, property and owns many of the biggest homes that he bought for his family members. Each one has a huge yacht parked "curbside" in the waterway in front of the homes. And we're not talking about the puny yachts you find birthed in Chicago's lakeside wharfs. We're talking skyscrapers in water. Like the homes, they are extravagant and huge. They cost millions to own and hundreds of thousands every few months to operate and gas up.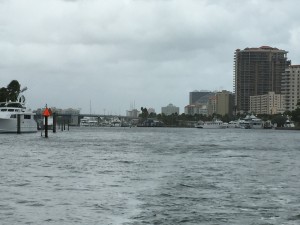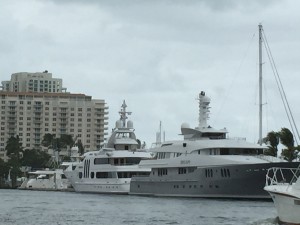 The guides on the Water Taxi never miss the opportunity to point out the most extravagant and jaw-dropping yachts and homes.
While I planned on our Ft. Lauderdale stop to be just an interlude in preparation for our second cruise on the Norwegian Epic (which features the huge waterslides my son enjoys), I didn't expect Ft. Lauderdale to be so much fun.
Next time, it's worth more nights or a vacation stay by itself. Although honestly, it is disturbing to have to see all that wealth in the nosebleed section of the rich and famous.
This post has already been read 2354 times!
Ray Hanania is an award winning political columnist and author. He covered Chicago Politics and Chicago City Hall from 1976 through 1992. Hanania began writing in 1975 when he published The Middle Eastern Voice newspaper in Chicago (1975-1977). He later published "The National Arab American Times" newspaper which was distributed through 12,500 Middle East food stores in 48 American States (2004-2007).
Hanania writes weekly columns on Middle East and American Arab issues for the Arab News in Saudi Arabia at www.ArabNews.com, and at www.TheArabDailyNews.com, www.TheDailyHookah.com and at
SuburbanChicagoland.com.
He has also published weekly columns in the Jerusalem Post newspaper, YNetNews.com, Newsday Newspaper in New York, the Orlando Sentinel Newspapers, and the Arlington Heights Daily Herald.
Palestinian, American Arab and Christian, Hanania's parents originate from Jerusalem and Bethlehem.
Hanania is the recipient of four (4) Chicago Headline Club "Peter Lisagor Awards" for Column writing. In November 2006, he was named "Best Ethnic American Columnist" by the New American Media. In 2009, Hanania received the prestigious Sigma Delta Chi Award for Writing from the Society of Professional Journalists. He is the recipient of the MT Mehdi Courage in Journalism Award. He was honored for his writing skills with two (2) Chicago Stick-o-Type awards from the Chicago Newspaper Guild. In 1990, Hanania was nominated by the Chicago Sun-Times editors for a Pulitzer Prize for his four-part series on the Palestinian Intifada.
His writings have also been honored by two national Awards from ADC for his writing, and from the National Arab American Journalists Association.
The managing editor of Suburban Chicagoland Online News website
www.SuburbanChicagoland.com
, Hanania's columns also appear in the Southwest News Newspaper Group of 8 newspapers.
Click here to send Ray Hanania and email.
His Facebook Page is
Facebook.com/rghanania
Visit this link to read Ray's column archive at the ArabNews,com
ArabNews.com/taxonomy/term/10906
Latest posts by Ray Hanania (see all)