This post has already been read 1536 times!
ATFP presents a new Task Force book publication:
What's Wrong with the One-State Agenda?
Why Ending the Occupation and Peace with Israel is Still the Palestinian National Goal
by ATFP Senior Fellow Hussein Ibish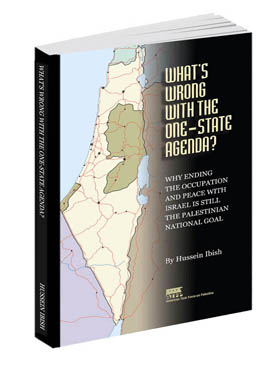 In this new book, Dr. Ibish examines the arguments generally put forward by Palestinian and other Arab American proponents of abandoning the goal of ending the occupation and establishing a Palestinian state and instead seeking to promote a single, democratic state in all of Israel and the occupied Palestinian territories. The book also looks at differences between the deployment of the one-state idea by some Palestinian figures in the occupied territories as a diplomatic "threat" intended to spur greater Israeli seriousness about a negotiated agreement and the diasporic discourse that drives most one-state rhetoric. Finally, Dr. Ibish explains in some detail why ending the occupation and peace with Israel, while difficult to achieve and thus far elusive, are the only plausible and practicable Palestinian national strategy.
The book also includes a preface by ATFP President Ziad J. Asali.
This post has already been read 1536 times!
RAY HANANIA — Columnist
Ray Hanania is an award winning political columnist and author. He covered Chicago Politics and Chicago City Hall from 1976 through 1992. Hanania began writing in 1975 when he published The Middle Eastern Voice newspaper in Chicago (1975-1977). He later published "The National Arab American Times" newspaper which was distributed through 12,500 Middle East food stores in 48 American States (2004-2007).
Hanania writes weekly columns on Middle East and American Arab issues for the Arab News in Saudi Arabia at www.ArabNews.com, and at TheArabDailyNews.com, TheDailyHookah.com and at
SuburbanChicagoland.com.
Palestinian, American Arab and Christian, Hanania's parents originate from Jerusalem and Bethlehem.
Hanania is the recipient of four (4) Chicago Headline Club "Peter Lisagor Awards" for Column writing. In November 2006, he was named "Best Ethnic American Columnist" by the New American Media;In 2009, he received the prestigious Sigma Delta Chi Award for Writing from the Society of Professional Journalists. He is the recipient of the MT Mehdi Courage in Journalism Award. Hanania has also received two (2) Chicago Stick-o-Type awards from the Chicago Newspaper Guild, and in 1990 was nominated by the Chicago Sun-Times for a Pulitzer Prize for his four-part series on the Palestinian Intifada.
His wife and son are Jewish and he performs standup comedy lampooning Arab-Jewish relations, advocating for peace based on non-violence, mutual recognition and Two-States.
His Facebook Page is
Facebook.com/rghanania
Email him at: RGHanania@gmail.com
Visit this link to read Ray's column archive at the ArabNews,com
ArabNews.com/taxonomy/term/10906
Latest posts by Ray Hanania (see all)